(Annie Black) – During Tuesday night's floor session in the Nevada State Assembly, I yanked off my mask and delivered a short, two-minute statement about how stupid the Legislature's ongoing mandatory mask "rule" is now that the CDC – you know, the "science" – says they're no longer necessary.
When I finished, Democrat Speaker Jason Frierson threatened to block me from voting on bills on behalf of my constituents – including my "adopted" constituents! – unless I apologize and comply.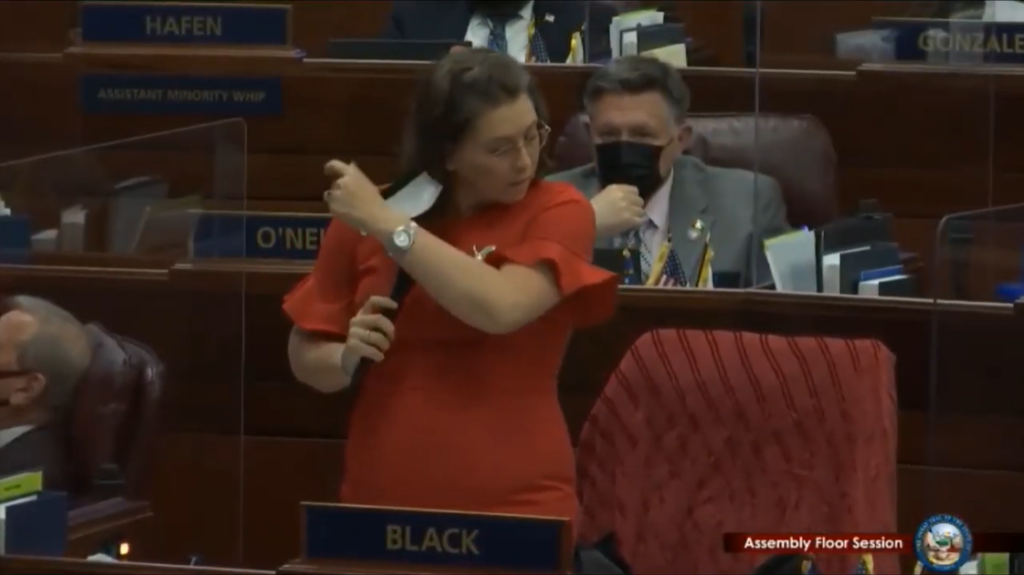 In case you're unable to access the video, here's what the Speaker said…
"I would remind the body that we have passed and have rules and there are consequences for violating those rules, and so I would recommend that every member read those rules and recognize that the consequences are up to and including the inability to vote or be heard on the floor until that behavior is addressed to the satisfaction of the body."
The rules the Speaker referred to – as I noted in an AnnieGram back on February 3rd – were adoped over my objection.  I never agreed to them and voted against them.  But here's exactly what the relevant one says…
"…a member shall cover his or her mouth and nose with a multi-layer cloth face covering and observe social distancing guidelines in accordance with recommendations of the United States Centers for Disease Control and Prevention when in: (a) Any common area, committee room, or House Chamber of the Legislative Building or any facility where a standing or an interim legislative committee meeting is held…"
"In accordance with recommendations of the United States Centers for Disease Control and Prevention."
Well, the CDC has now declared that masks are no longer required under certain circumstances (more on this at the end).
As for the "consequences" the Speaker threatened me with…
"A member found guilty by the House of a breach of this rule shall not vote or speak on the floor or committee except to explain and apologize for the breach, until the member has made satisfaction to the House for the breach."
I'll also remind everyone that the Chief Clerk, Susan Furlong, performed in the House Chamber for WEEKS without a mask – and without "consequences" – until I raised a stink about it on April 20.  Remember this photo?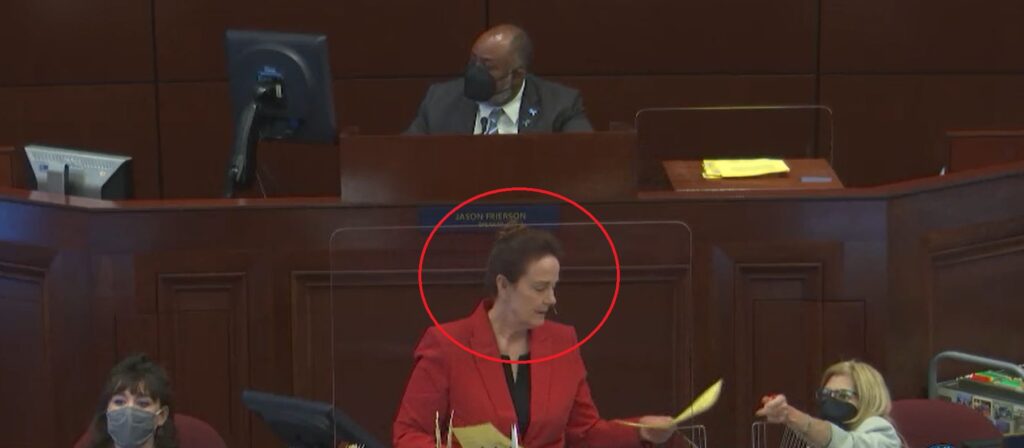 So the government employee charged with enforcing the "rules" openly flouted them for months, but now the Speaker is threatening to block an ELECTED legislator from representing her constituents in the exact same room even though the CDC guidelines have changed?
Are you kidding me?!!
(Yeah, I'm a little hot under the collar on this one)
But there's an even more serious issue at stake here that affects not only every one of my constituents; not only every Nevadan; but every freedom-loving American citizen.  Consider this…
Vax or mask?
The recent CDC announcement declaring that masks were no longer required only applies to those who have been fully injected with the vaccine.  There's a reason for that…and it ain't for health or science.
The CDC is using this to coerce people into getting the jab.  Either get the vaccine or forget about returning to life as normal.  And they aren't even trying to hide it.
In fact, President Joe Biden came right out and declared…
"The rule is now simple: get vaccinated or wear a mask until you do."
So here's the thing, and why YOU and everyone else needs to be terrified about this…
No one knows if I've gotten the vaccine.  And frankly, it's nobody's business but my own.  It's my body, my choice.
And no one knows if I've had the COVID virus or not – which the "science," including the CDC, says gives a person natural immunity.  And frankly, that's also nobody's business but my own and my doctor's.
Does the government intend to take away your right to privacy – including your health privacy – in order to enforce this new "rule"?
Absolutely.
What President Biden, Gov. Sisolak, Speaker Frierson and the CDC are doing is setting a trap to usher in "vaccine passports."  Either PROVE you've been vaccinated or become a second-class citizen.
Papers, please.
We need to BAN vaccine passports!
They're not about "science."  They're about compliance.  And I will not comply.
As Bill Pullman famously declared in the movie Independence Day…
"We will not go quietly into the night!  We will not vanish without a fight!  We're going to live on!  We're going to survive!"
Black…out.
FROM THE ANNIE-GRAM MAILBAG
"The disrespect you get from the opposition is a badge of courage for you.  You are doing a terrific job, hopefully more Republicans in the state will see the light.  Keep it up!" – Tim Ottmann
"Keep pounding away. I believe your army is growing and getting stronger. You are our General George Patton!!!" – Mike & Gwen Kubasak, Mesquite
"If you hadn't informed your readers of the bills being introduced in the state legislature, we wouldn't have been compelled to write emails to key people expressing our opinions and trying to make a difference!  It's obvious that Annie's Army is growing by the day." – Francine Huffman
"Thank you for all your updates.  I think this is the first year in my 48 years in NV that I have been kept abreast of all the ongoings in our State.  Keep up the good work!" – Lynda Spann
"I love your AnnieGrams!! You go girl and fight because we are behind you." – Barbara Decker
"Annie, I thoroughly enjoy reading your AnnieGrams!  Keep working hard for us. Not once have I regretted voting you in to represent me and our district!!" – Bryan Baird
"I'm not one of your constituents but I sure like that you're telling the truth and taking on the established politicians.  Thank you for your hard work." – B. Long
"Even though I do not reside in your district I still support you 110%. It is nice to see someone fighting so hard to promote honesty and accountability in politics. Thanks for all you are doing." – Gary Turner
"Keep up the good fight. As an adopted constituent from Henderson, I've got your back." – Yvonne Sweeten
"Hi Annie.  I have been following you for a while now and all I can say is keep up the GREAT work. We need more representatives like you!!" – Bill McDonald
"Annie, thank you for all you have done and will continue to do for Nevada.  You are a mighty woman and inspire me in so many ways!  Keep up the good work.  Please know that the VAST majority is behind you and appreciate all your work!!" – Pattie Gallo
QUOTES OF THE DAY
"Better to fight for something than live for nothing." – Gen. George S. Patton
"Instead of releasing violent prisoners from jail due to COVID concerns, why didn't they just give them masks if they're so effective?" – Ryan Fournier
"The @CDCgov guidance shows it's time for Congress to practice what it preaches. There is no reason the House of Representatives should not be fully open and returned to normal operations. Enough with the Mask-erpiece Theater." – Rep. Bob Gibbs
"I stand with all Americans especially the children who are being forced against their will to wear masks or take an experimental vaccine.  If we don't stand now against these tyrannical aggressions, then we will be forced to our knees and unable to stand later." – Rep. Marjorie Taylor Greene
"If ye love…the tranquility of servitude greater than the animating contest for freedom, go home from us in peace. We seek not your counsel, nor your arms. Crouch down and lick the hand that feeds you. May your chains set lightly upon you, and may posterity forget that ye were our countrymen." – Samuel Adams
Annie Black is the Nevada State Assemblywoman representing District 19.  You can get more information and subscribe to her AnnieGram newsletter by visiting www.AnnieBlack.net