Nevada Assembly District 19
Annie Black is the Nevada Assembly representative for District 19 and a former Mesquite city councilwoman. Past President of Mesquite Republican Women's Club. Born on January 20, 1981 – the same day Ronald Reagan was inaugurated!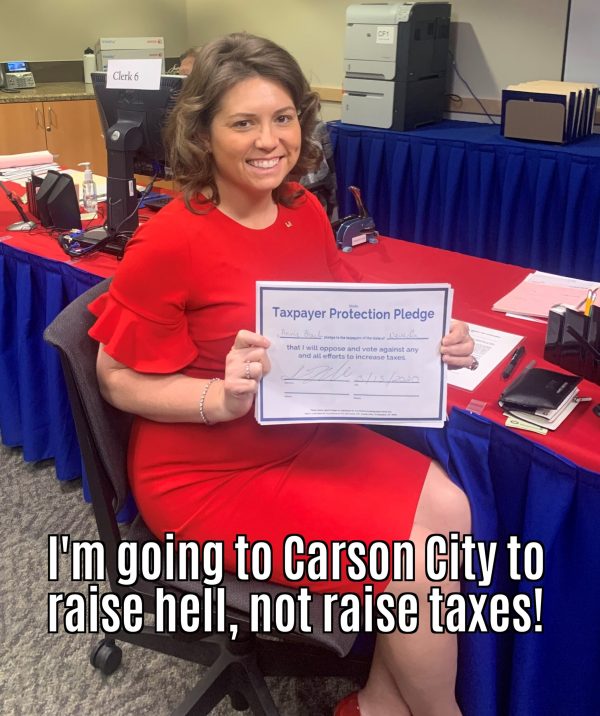 Want to talk about these or any other issues?
Call me on my personal cell: (702) 872-2222 or shoot me an email:
[email protected]
I Appreciate the HUGE Show of Support & Faith You've Entrusted in Me
to Represent You in Carson City. I Won't Let You Down!
Number of Active Voters Annie Represents in Assembly District 19
Priority #1
Balance the current state budget without raising taxes. The budget must be balanced by separating government expenditures into "essential" & "non-essential" and reducing or eliminating completely all non-essential spending.
Priority #2
Fix our broken election system. Voter ID. Mail-in ballots only to those who request one. Clean up the voter list. End "ballot harvesting." Enhance independent third-party observation. Ban use of signature verification machines.
Nevada's Statewide Unemployment Rate at Height of #SisolakShutdown
Number of Nevadans who Filed for Unemployment Due to the #SisolakShutdown
Number of State Employees Laid Off During the #SisolakShutdown
Estimated State Budget Shortfall Due to the #SisolakShutdown
"Annie is open, friendly, smart, energetic, and fair. She tells the truth even when it hurts. She is the embodiment of a real leader."
"Annie is dedicated, highly motivated, loyal, unafraid, honest, energetic, listens & the best qualified. Go Annie!!"
"It's time for new energy. It's time for change. It's time for Annie Black. #AlwaysBetOnBlack."
Check out the latest from Assemblywoman-elect Annie Black here on her Blog…
(Annie Black) – I know I've been off the radar for the past few weeks – trust me, I wasn't on vacation! – but before
Read More »