(Annie Black) – Last night, the Nevada Policy Research Institute (NPRI) – Nevada's oldest, most respected conservative think tank – held a very special and very successful dinner celebrating its 30th anniversary at the Venetian Resort in Las Vegas.
The keynote speaker was Mollie Hemingway – columnist, FOX News All-Stars panelist and author of "Rigged: How the Media, Big Tech and Democrats Seized Our Elections."
The celebration included the announcement and release of NPRI's "2021 Legislative Review & Report Card" of the voting records of all 63 Nevada legislators.
And the #1 conservative legislator for the 2021 session is (may I have the envelope, please) …
Assemblywoman Annie Black!
With a conservative voting score of 99.22%, I edged out conservative colleague Assemblyman Andy Mathews' (R-Las Vegas) 99.07% score by a whisker.
"Freshman Assemblywoman Annie Black of Mesquite certainly ruffled her colleagues' feathers throughout the 2021 session," NPRI's Report Card notes.  "At one point, in protest of the arbitrary mandates imposed by Gov. Sisolak during the legislative process, Black refused to 'mask up' on the Assembly floor – resulting in a vote for her official censure along strictly party lines."
"Nevertheless," the Report Card continues, "Black's persistent effort to increase transparency and public access during the legislative process deserves applause – even if she didn't always comply with the legislature's procedures."
Yep, that's me!  Defy, not comply.  As Thomas Jefferson famously put it…
"The spirit of resistance to government is so valuable on certain occasions that I wish it to be always kept alive."
Assemblyman Matthews and I were joined by five other conservative GOP colleagues with scores over 95%: Assemblyman Jim Wheeler (97.79%), Assemblyman Richard McArthur (97.16%), Assemblywoman Jill Dickman (95.95%), Assemblywoman Robin Titus (95.95%) and Assemblyman John Ellison (95.33%).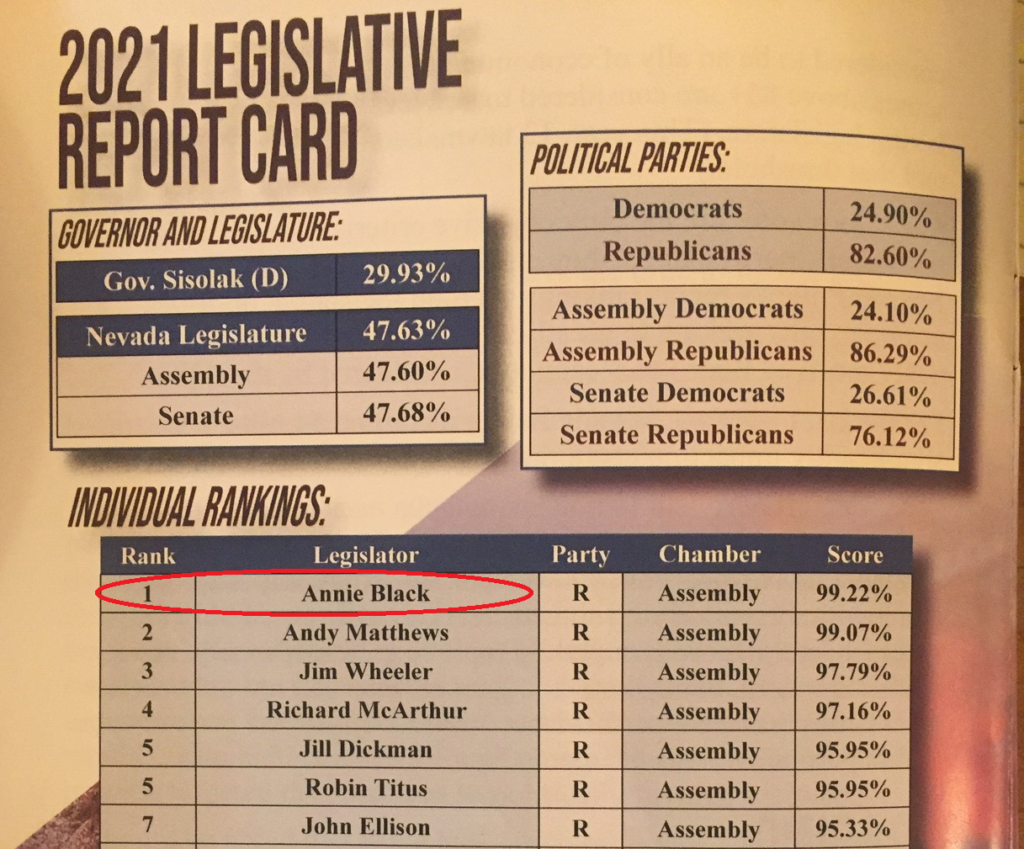 The three worst-voting Republican members of the Assembly were Melissa Hardy (64.71%), Tom Roberts (61.06%) and Jill Tolles (60.12%).
Remember their names.
And let me tell ya something…
NPRI is a Nevada treasure.  Not just for conservatives, but all Nevadans…especially Nevada's taxpayers.  So a big THANK YOU to NPRI Chairman Ranson Webster and President John Tsarpalas for the excellent, critical work you do.
And a special thank you to Daniel Honchariw, NPRI's Legislative Affairs Director.
The legislative process is extremely complicated, especially for a freshman legislator, and often happens at lightning speed.  Plus, the Democrats – and some of our RINOs (Republicans in Name Only) – often try slipping bad stuff into bills, hoping no one will notice.
Unfortunately for them, we had Daniel with us in Carson City.  He was able to ferret out anti-taxpayer "poison pills" buried or hidden in a number of bills and alerted us to them.  He was an invaluable resource and we all owe him a HUGE debt of gratitude.
And, of course, I want to thank you, Annie's Army, for standing beside me throughout the session and having my back as I fought it out in the lion's den.  Earning the honor of NPRI's #1 rating is as much your victory as mine.
Now I just gotta figure out how I missed 100%.  I'll try to do better next time. 😊
Black…out.
P.S.  Coming up next:  I attended Mike Lindell's cyber-symposium on election integrity in South Dakota last week.  I'll have an update for you in the coming days.
QUOTE OF THE DAY
"Democrats are working so hard to stop election integrity that it makes it seem like they think the only way they can win elections is if fraud is permitted via loose oversight." – Mollie Hemingway
Annie Black is the Nevada State Assemblywoman representing District 19.  You can get more information and subscribe to her AnnieGram newsletter by visiting www.AnnieBlack.net