HUGE Victory for Taxpayers at Nevada Supreme Court!
(Annie Black) – We could all use a little good news these days as the Harris-Biden administration continues with its "America Last" agenda in Washington, DC…and the Nevada Supreme Court delivered it this morning!
In a unanimous appeal decision by all seven justices, the Court ruled that a pair of Democrat tax hikes – worth around $107 million – approved by the 2019 Legislature were unconstitutional.
"Because both bills create, generate, or increase public revenue," Chief Justice James Hardesty wrote in the decision, "the district court correctly determined they were unconstitutionally passed in the Senate with less than a supermajority vote."
"Accepting the state's argument," the decision continues, "that the (2/3) provision only applies to bills that directly bring about new or increased taxes would require us to read language into the provision that it does not contain – a task we will not undertake."
Amen and hallelujah.
"Today's unanimous Nevada Supreme Court ruling made one thing clear," wrote Republican Senate Minority Leader James Settelmeyer, who sued to block the tax hikes, in a prepared statement issued after the decision.  "Nevada Democrat leaders knowingly violated the Nevada Constitution.  This is a victory for all Nevadans."
Indeed, those tax hikes now must be returned to the taxpayers who the Democrats ripped off.
YEAH!
Alas, Democrat legislators remain unchastened and show no remorse for their clearly unconstitutional money grab.
In a statement following the decision issued by Democrat Senate Majority Leader Nicole Cannizzaro, Democrats threatened to continue looking for "meaningful revenue legislation this session."
"Meaningful revenue legislation."  Why can't these people just call them what they are?  Tax hikes.
Rest assured, no matter what they call them I'll be opposing them.  As I've always said, I came to Carson City to raise hell, not raise taxes.
But for at least today, we have something to cheer and celebrate.
Black…out.
Even MORE Good News!
Just after lunchtime today, Gov. Steve Sisolak announced that the Democrats' bill to repeal the death penalty in Nevada was DOA – dead on arrival.
"At this time, there is no path forward for Assembly Bill 395 this legislative session," the governor wrote in a prepared statement, clearly indicating he would veto it if it hit his desk.  "I believe there are severe situations that warrant it."
I'm proud to say I brought to light a number of those "situations" in my floor statements and my AnnieGrams (here and here).  And even prouder that YOU voiced opposition to this bill so strongly and loudly.
While Democrats in the Assembly ignored your voice and passed the bill, the governor clearly heard you and stuck a fork in it!
And the "killer coddlers" over at the ACLU is having a conniption over it.  Here's part of their overwrought response…
"By failing to even consider how to advance this bill before dismissing it, the Senate and governor have emboldened government attorneys to seek the execution of civilians through our state's racist, arbitrary, and expensive capital punishment system.  Party leaders in the Senate and Governor's office have shown that their commitment to meaningful reform is nothing but lip service. … This is an embarrassment."
You know, we could probably refill Lake Mead with all the liberal tears being shed for these monstrous murderers on Death Row!
Anyway, another big win for our side that again shows what's possible when we fight back – even against all the odds.
BREAKING: This Just In!
Just as I was about to send out this AnnieGram, Brenda Erdoes, Gatekeeper to the Doors of the Legislature, announced that, effective next Monday, the number of citizens who will be allowed to enter the People's House for the remainder of this legislative session will triple from 153 to 495.
I guess better late than never.
Of course, there is NO REASON why the Legislature shouldn't be open 100%, the way every other building in Carson City is.  But we'll take what we can get.
And again, make no mistake, if the Democrats had their way this building would not have been opened AT ALL this session.  Your calls, texts and emails to the "powers that be" have made all the difference.
So take a well-deserved bow, Annie's Army!
And the Hits Just Keep on Comin'!
Shortly after the governor's press release announcing the death of the death penalty repeal bill, he issued a statement that, effective immediately, "fully-vaccinated individuals do not need to wear a mask in most indoor and outdoor locations."
Private businesses *may* still require a mask to enter, but it will be THEIR decision, not the governor's.  And, of course, if they decide to force you to wear a mask, you can decide to take your business elsewhere.
Now…
How will businesses and law enforcement officers know who has been fully vaccinated and who hasn't?  THAT'S gonna be interesting.
FROM ANNIE-GRAM MAILBAG
"I really got a kick out of those ridiculous comments (by Dave Petrillo)!  I'm betting your Republican constituents are pretty happy with your actions during this legislative session." – Name withheld by requst
"Many of us have seen comments from David Petrillo on various subjects and have realized he's a bitter old man. You have a super-majority in Mesquite who truly appreciate the work you are doing. Keep your head high and know the people of District 19 asked you to represent us and you are doing a fabulous job." – Ken Anacker
"Don't pay any attention to that guy!  The people who elected you are not only very intelligent but are very fortunate to have you watching out for them!  You are a star and don't ever doubt it." – Jeanne Herman
"Annie, I would tell that bozo to go pound sand down a rat hole. Stay in fighting for us.  I love having you kicking their (blank).  You seem to be the only one doing it." – Robert
"Keep pounding Annie. Don't give up the good fight. More Nevadans are behind you than you might realize. I believe that. So should you." – Frank & Sue Sempolski
"Mr. Petrillo is one of many who curl up in a ball when they think of Trump.  All you can do is keep up what you're doing and hope that some of the RINOs in the Legislature stiffen up and stop voting for the bad bills that are being considered." – Dorothy Myers
"Because you stand so tall above the rest in terms of what you are there to accomplish for 'we the people,' they will continue trying to pick you off or scare you into resignation.  You go and keep being the thorn in their side until they wake up and get their head out into the sunshine." – Betty
"Don't listen to the haters. We are out here hoping that you won't get discouraged. I could never take the pressure you are under, and I applaud you for being on the frontline and kicking ass!" – Suzett Hill
"Don't let anyone intimidate you! You keep on being the political fireball you are! I wish you'd run in CD3 and overthrow radical Susie Lee!!!!!  I am in your corner! Never stop being you!!!!" – Jenny Oertwig
"Keep in mind — there are people out there in NV that feel the exact OPPOSITE way this guy does.  I only wish I could vote for you — but you're unfortunately not in my district.  However, I still support you.  Please keep fighting.  Please stay strong." – Michelle Murlin
"No way anyone will forget your bold, brilliant burst on the political scene in Nevada.  No one in this state has made the impact you have in just a few short months.  On to the top!  We love you!" – Mesquite supporter
PHOTO OF THE DAY
This photo outside the Legislature should remove any doubt that Assemblywoman Dickman and I are fully committed to turning Nevada "red" again.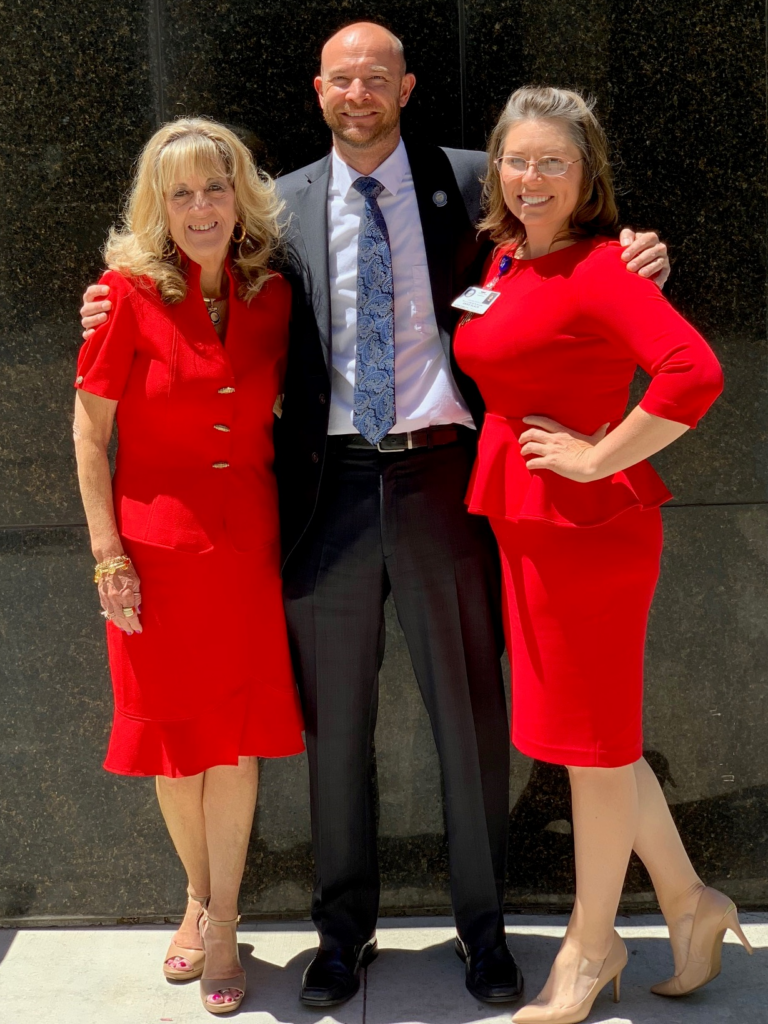 But we definitely need to go out and buy Assemblyman Matthews a new RED tie!
QUOTE OF THE DAY
"You can't run a railroad where the person driving a locomotive hates the president of the railroad." – Rep. Mark Amodei (R-NV) on his support for ousting Rep. Liz Cheney from her leadership position
Annie Black is the Nevada State Assemblywoman representing District 19.  You can get more information and subscribe to her AnnieGram newsletter by visiting www.AnnieBlack.net